The Baja 1000 is one of the longest and toughest off-road races in the world, and was the SCORE season finale for Rod Hall and Team HUMMER racing. This past weekend, both Rod Hall and son Chad clinched points championship titles after strong finishes in this year's Baja 1000. This year's race had its fair […]
Continue reading...
Every year for the last 22 years, J.D. Power and Associates rank automotive brands by customer satisfaction. The evaluation is based on five factors: dealership facility; salesperson; paperwork/finance process; delivery process; and vehicle price. In 2008, HUMMER was ranked second overall, only behind Jaguar by a single point and beating Lexus who edged HUMMER out […]
Continue reading...
One question that I get pretty often is, "Do HUMMER owners really ever take their new trucks off-road?" My answer is often a surprised sounding, "yes!" But maybe I shouldn't be so surprised after being asked so many times. It's obvious that many people still believe that most HUMMERs never see any dirt or adventure. […]
Continue reading...
Surely one of the most ubiquitous assumptions about the HUMMER brand is that they are largely inefficient vehicles. When compared to the new Chevy Volt that can run exclusively on electric, I would agree. But the difference is negligible when you compare the brand's most popular model, the HUMMER H3, against other SUVs in its […]
Continue reading...
Australia's largest strength competition recently took on HUMMER as a new and appropriate sponsor. Brisbane's OZ Strongman challenges contestants to various feats of strength, including pushing an H3 up to 30 meters. "It makes perfect sense to combine the strengths of the HUMMER brand and the OZ Strongman Championship," says managing director of the competition […]
Continue reading...
General Motors typically runs their annual 'Red Tag' sale close to Thanksgiving, but this year they decided launch the promotion ahead of schedule. Normally brand new models wouldn't be included, but GM decided to incorporate the new 2009 HUMMER H3T into the mix. The sale enables buyers of most GM vehicles, including all HUMMERs, to […]
Continue reading...
Since the well of HUMMER news has been somewhat dry in the last week, we're going to show you a custom HUMMER that you probably have never thought of – neither had we! This specially equipped HUMMER H2 is the newest starting gate for Pompano Park Racetrack. I don't know much about harness racing other […]
Continue reading...
The Aussie team at ARB 4×4 Accessories recently announced their plans to go global with their HUMMER product, and this week introduced the ARB Edition H3 at the 2008 SEMA Show in Las Vegas. The customized solar flare HUMMER H3 my look familiar to you, since it's the same vehicle that was used for Chris […]
Continue reading...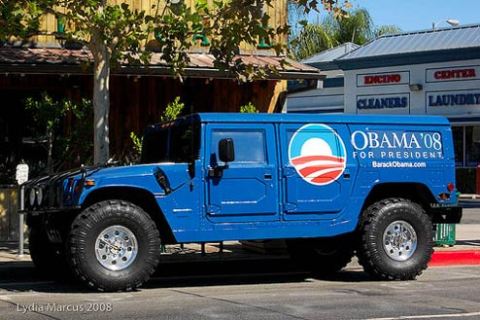 We try and stay out of politics as much as we can, but when HUMMERs mix with politics – we're sort of obligated (e.g. Schwarzenegger). So here's a somewhat surprising vehicle. This HUMMER H1 was spotted in California sporting a huge political ad for Barack Obama. I'm sure there are many within the left wing […]
Continue reading...
The team over at The Garage Blog recently took a new 2009 HUMMER H3T out for a short off-road adventure and took a video camera along with them. Check out their footage below!
Continue reading...