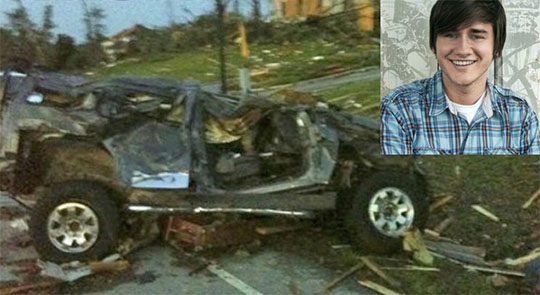 Update 5.28.2011: The following was posted on the Find Will Norton Facebook page late last night:
"Everyone, tonight is a sad night for us. I'm sorry to tell you that Will was found but he was not alive. We are grieving deeply. It brightens our lives to know that even in his passing he touched lives. We will write more soon but tonight we will mourn as a family. Please pray for Mark, Trish and Sara as well as my parents. God bless you all. Please pray for those still lost and hurting. Aunt Tracey"
5.25.2011:We saw this story cross the wires earlier today, but this is the first time we're seeing images of Will Norton's HUMMER H3. Will and his father were traveling home after his graduation ceremony when the horrific tornado struck Joplin, Missouri.
The tornado rolled the H3 several times, at which point Will's seatbelt broke and he flew out the sunroof according to his father. However, Will is still missing. Friends and family have setup a facebook page, Find Will Norton.
Our thoughts are with the Norton family.
CBS News, Images: Jalopnik/AP