We're proud to announce that HummerGuy.net has acquired a 2009 HUMMER H3 that will undergo a series of upgrades and modifications. We decided to get in on the action after keeping up with Four Wheeler Magazine's "Project Trail Hugger" H3, and put our own spin on a vehicle.
We won't be doing major changes like re-painting the H3, but we will be bringing you upgrades greatly improve the look and utility of the H3, and that most in the DIY crowd can handle. Or, if you prefer, you can always have these mods done your local HUMMER dealer or four-wheel-drive shop.
While we have an overall vision of the truck (losing the chrome to start) and have already begun some modifications, we're open to suggestions or products you think we ought to consider. Just drop us a line at 'brian at hummerguy.net.'
Update #1: Black Locking Gas Door
The Product:
Hummer H3 Black Locking Gas Door
The Skinny: Looks good, inexpensive, great quality
The Full Article: HUMMERGuy.net Project Rig Gets Locking Gas Door
Update #2: Goodyear Duratrac Tires and Black Wheels (On-Road Test)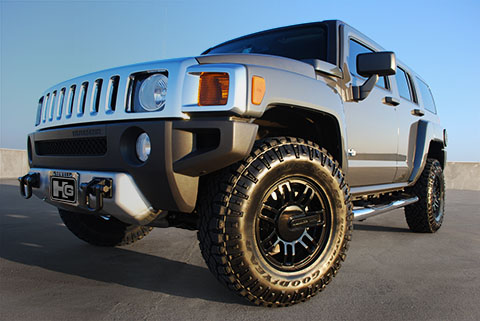 The Product:
Goodyear Wrangler DuraTrac 285/75R16
, and Black Powder-Coated Wheels
The Skinny: Aggressive Look, Quiet Ride
The Full Article:
HUMMERGuy.net Showcase Vehicle Gets New Wheels and Goodyear DuraTracs
Update #3: HUMMER Rocker Panel Protection & Removable Steps
The Product: HUMMER Rocker Panel Protection, Removable U-Steps
The Skinny: Protects side panels when off-road, steps useful in-town but easily removed when necessary.
The Full Article:
HUMMERGuy.net Project Truck Gets Rocker Protection, Removable Steps
Update #4: iPhone and iPod Stereo Hookup
The Product: HUMMER Personal Audio Link (PAL)
The Skinny: A direct connection from your iPhone or iPod to you H3's sound system
The Full Article: HUMMERGuy.net Project Truck gets iPod/iPhone Connectivity
Update #5: Weathertech Digitalfit Floormats
The Product: 2006-2010 Hummer H3 Black WeatherTech Floor Liner (Full Set)

The Skinny: The best fitting, most durable HUMMER floormats we've come accross
The Full Article: HUMMERGuy.net Project H3 Gets Interior Protection from WeatherTech
Update #6: Gobi stealth roof rack
The Product: Stealth Roof Rack from Gobi Racks
The Skinny: Among those who use their trucks for any type of adventure activity – whether it be skiing, canoeing, kayaking, wheeling, or camping – Gobi remains the only brand to make rack for the H3 that is in-line with HUMMER's tagline: Like Nothing Else.
The Full Article: HUMMERGuy.net Project H3 Gets Gobi Stealth Rack
Update #7: Goodyear DuraTracs get Wet and Muddy
The Product: Goodyear's new Wrangler DuraTrac Tires
The Skinny: We see what our DuraTracs can do when faced with water and mud.
The Full Article: Goodyear DuraTrac Tires in the Water & Mud