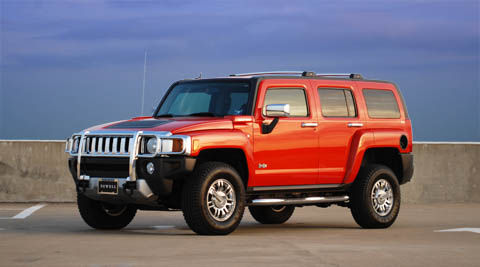 Below you will find a HUMMER Announcement Q & A designed to help customers and dealers sort through the announcement and what it means. Interesting points: HUMMER Headquarters will be based in the United States, and verbiage hints that H1 won't be brought back – but never say never. Click "more" for the Q & A.
What was the big announcement?
A: General Motors announced on June 2nd that it has entered into a memorandum of understanding (MoU) with a potential buyer for HUMMER. Later that day, it released that the buyer was Sichuan Tengzhong. The agreement will allow HUMMER to maximize its potential as a premium global off-road brand through capital investments in new innovative off-road vehicles with improved efficiency and alternative fuel powertrains, and diesels.
For GM, it's an important milestone in the company's restructuring efforts focused on profitability and long-term sustainability.
This transaction will also secure more than 3,000 jobs directly related to HUMMER in the U.S. in terms of engineering, manufacturing and dealerships, and between 8,000 and 10,000 industry-related jobs overall.
What is a "memorandum of understanding" or MoU?
A: A memorandum of understanding is a non-binding agreement between GM and the buyer which outlines the principal deal points of the proposed transaction.
What will be included in the sale?
A: The brand sale will include the assignment of ownership in HUMMER trademarks, trade names and trade dress; ownership in design and shape of current and future models; assignment of ownership in HUMMER related domain names and advertising tag lines; and a license to HUMMER-related intellectual property.
Will the sale include HUMMER military technology?
A: No. The transaction does not involve any military technology or military vehicles. Military HUMVEEs are built by AM General corporation in a completely separate operation from General Motors and civilian HUMMER production.

How much cash is GM receiving for the HUMMER brand?
A: Financial and other terms of the proposed transaction are not being released at this time. Some reports have estimated the sale at $80 million U.S., and Sichuan Tengzhong would also take on a large sum of liabilities and has promised unknown figures in future investment.
Who is purchasing the brand?
A: Under terms of the MoU, GM is currently not permitted to release that information. However, regardless of who is investing in the brand, the proposed agreement will enable us to continue the brand's evolution, while providing the capital for future product investments to secure HUMMER's position as a responsible, premium off-road vehicle brand. UPDATE: The company under the MoU with GM is Sichuan Tengzhong of China
Why is GM selling HUMMER?
A: In June 2008, GM announced it was conducting a strategic review of the HUMMER brand. As a result of that review, it was determined that a sale of the HUMMER brand was the best option for both GM and HUMMER.
How long will GM provide transitional support?
A: GM will provide contractual business and manufacturing services to HUMMER for a period of time to be mutually agreed between the parties. It is expected that Tengzhong will contract GM to produce vehicles and provide critical components for years to come.

Did GM seek government approval for this sale?
A: GM has advised the U.S. Department of Treasury of the proposed transaction. GM and the buyer will seek all the necessary governmental approvals prior to consummation of the sale.
What are the next steps?
A: The next step in the process will be the negotiation and finalization of definitive agreements between the parties detailing the transaction outlined in the MOU. GM is committing to provide regular updates as further information becomes available on the sale and transition process
When will the sale be complete?
A: The sale is expected to close by the end of the third quarter and is subject to customary closing conditions, including receipt of applicable regulatory approvals.
Will current GM/HUMMER employees be forced to go with the new company?
A: In addition to Jim Taylor's executive staff, select HUMMER team members are being offered the opportunity to continue their support of the HUMMER brand, but no one is being forced to join the new HUMMER company.
Where will HUMMER be based?
A: HUMMER will remain a U.S.-based company with sales in more than 34 different countries. HUMMER is currently evaluating various locations around the country for our permanent global headquarters.
Does the purchase agreement include all HUMMER dealers?
A: HUMMER's dealer network is part of the proposed transaction, but HUMMER is not commenting on plans for individual dealerships.
Will HUMMER close any dealerships?
A: GM has no plans to close HUMMER dealerships as a result of the MoU.
Will GM provide Sales and Service support?
A: GM and HUMMER are working together to ensure a seamless transition for the customers and dealers.
Will warranty agreements continue to be honored?
A: Customers can rest assured that their HUMMER warranty will be honored.
Where will the vehicles be produced?
A: AM General remains under contract with GM for assembly of the H2 and under the proposed transaction, GM would contract build the H3 and H3T for HUMMER for the North American market through at least 2010. In addition, Shreveport expects to begin building the homologated H3 in right- and left-hand drive for export markets, as well as a new diesel H3 that we expect to begin exporting to overseas markets in early 2010.
Will HUMMER bring back the H1?
A: HUMMER's future product development will focus on improving efficiency and performance in its current models with alternative fuel powertrains, 6-speed transmissions and diesel engines. HUMMER will also continue to develop new, smaller, more efficient, yet highly capable off-road vehicles. Vehicles like the HX and H3T Concept provide a good direction for the future of the brand.
Will HUMMER continue to sell vehicles overseas?
A: Sales outside the United States represent as much as 30 percent of the current HUMMER business, so the global market remains extremely important to HUMMER.
What models will HUMMER offer in 2010?
A: For the current and upcoming model year, HUMMER will continue to sell the 7-passenger bio-powered H2 and the award-winning, highly-capable H3 and H3T midsize vehicles. Stay tuned for additional product announcements.
That's all for now – stay tuned as more details become available!