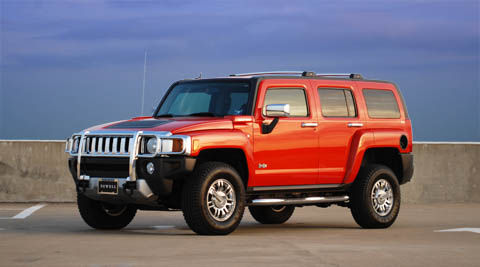 The Wall Street Journal recently ran an article called, the "Three Reasons Chinese Government May Not Support HUMMER Deal," including reasons like reducing China's carbon footprint and Tengzhong's experience in the market. We've decided to counter that, with three reasons why the Chinese Government would want to support the HUMMER sale.
#1: Compared to other vehicles in their class, HUMMER's fuel economy is right in line.
The same media outlets that made HUMMER synonymous with 'gas guzzler' are now suggesting that the acquisition of HUMMER would undermine their push to greener technologies and vehicles. While the HUMMER may not get the same miles per gallon as a Prius, their fuel economy is comparable to, and in some cases better than, other vehicles in their class.
According to Fueleconomy.gov, the new 4WD HUMMER H3T gets better gas mileage than the 4WD Ford F150, and the same gas mileage as the 2WD F150. Surely the Chinese are aware that the F150 has been the bestselling vehicle (not truck, vehicle) in the United States for the last 27 years. Clearly there's a market for purpose-built utility vehicles. What isn't clear is the double standard among advocacy groups and the media that criticize the HUMMER brand yet remain silent about the Ford's fuel economy.
In any event, the Chinese government will be looking at the facts, not media opinion, when it comes to approving the acquisition of HUMMER.
#2: Tengzhong has experience with the specialty, heavy-duty vehicles.
The Wall Street Journal reported doubts about Tengzhong's ability to run HUMMER given its "lack of auto manufacturing experience." However, Tengzhong has been producing specialty vehicles for years, including dump trucks, heavy trucks, vans, concrete mixing trucks, concrete pump trucks, tanker trucks, and aviation fuel tankers. Even without the acquisition of HUMMER and its production facilities, their production capacity is over 10,000 vehicles per year.
Tengzhong also brings along an impressive client base for its specialty vehicles, which could open the door to larger volume HUMMER sales to those looking to supplement their fleet.
The HUMMER brand was built on specialty vehicles, and it needs to focus on its unique abilities and characteristics if it wishes to thrive. A company that specializes in producing purpose-built, heavy-duty vehicles could be just what HUMMER needs to regain a strong following.
#3: The Chinese are dying for a way into the American Auto Market
It's no secret that the Chinese have been trying to break into the American auto market for some time with limited success. To acquire a brand that has seen great success, has instant brand recognition worldwide, and has international distribution and dealer networks already in place would be huge for China. Given GM's need for cash quickly, they're also able to acquire HUMMER for far less than they would have otherwise.
These three reasons give us confidence that the regulators in China will approve the sale as long as they look at the facts – not rumors and speculation.