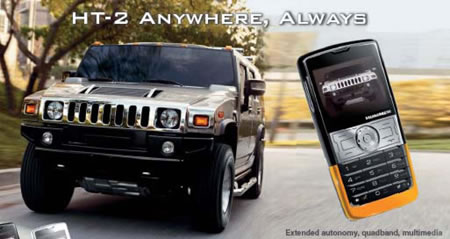 Today you're getting three posts for the price of one as we take a look at some recent HUMMER news. We'll start with some new HUMMER-branded merchandise.
The HUMMER cell phone made its overseas debut almost a year ago, and now the second generation phone is available. The HT2 phone comes equipped with an MP3 player, 2MP camera, Bluetooth, and as expected, one of a kind design. Unfortunately, none of the HUMMER phones are currently available in the US at this time.
Although HUMMER phones aren't winning any awards that I know about, at least the vehicles that made the brand famous are. The 2008 HUMMER H3 Alpha is being recognized in the May/June issues of Truck Trend Magazine as their number 1 pick in the "Hardcore 4×4" category in their Best in Class 2008 rankings. Yes, I agree that against other SUVs the HUMMER H3 Alpha ranks at the top hands down, but I'm left wondering if this is Truck Trend's way of apologizing for that little embargo break they had a couple months ago…
Finally to another worthy publication: FourWheeler.com. These guys got to hang out with HUMMER during their recent Moab run with some tricked out H3s and the new H3T – and somehow convinced HUMMER to let them get an H3 airborne. Kudos, gentlemen – check out the video at FourWheeler.com.