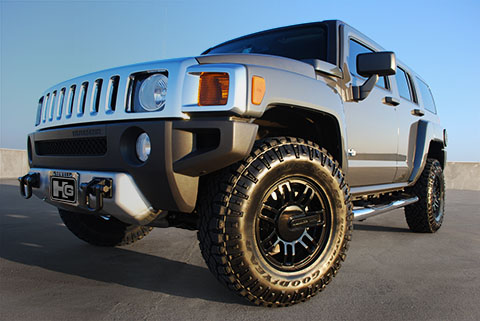 Wow! We're always amazed at what a good set of wheels and tires can do for the overall look of a truck – not to mention the functionality. For our showcase vehicle, we chose to go with
Goodyear's new Wrangler DuraTrac
tire. Since we already had the rubber off the wheels, we decided to have the wheels powder-coated black at the same time.
Since our goal is to keep our rig both off-road capable and comfortable as a daily driver, Goodyear's DuraTrac tires are a perfect fit. They're the same size (285/75R16) as the available 33inch factory tires, and as you can see below, the size and ruggedness is quite different between the standard 32inch factory Goodyear Wrangler RT/S tires.
While the stock RT/S tires are a long-lasting, comfortable riding tough tire, the DuraTracs take that capability to the next level. You can see by the comparison from Goodyear.com that the only sacrifice is 1 point on the "quiet ride" scale. From our testing so far, these are the quietest riding aggressive tires we've ever experienced. We had the radio off and the truck with speeds between 30 and 80 listening specifically for the tires, and in the H3, the inevitable wind noise was significantly louder than any noise we could discern from the tires. They're so quiet that they even earned the right to carry the European Commission Noise Symbol for passing stringent European standards for pass-by noise.

We still need to make a couple other adjustments to the rig before we test the tires off-road, but stay tuned for part two of our Wrangler DuraTrac coverage.
The look of the HUMMER H3's wheel is a design aspect we wanted to keep, but we needed a new finish for them. We took the truck to Sewell HUMMER of Dallas who was able to powder-coat the wheels black. Some powder-coating can look uneven or have ripples/bubbling areas, but we were very impressed with the quality of our application.
To keep costs down on the wheels and tires, one option would be to just snag a tire cover and cover up the spare, and thus cutting your costs by a fifth. While we see that most often with the larger wheel/tire combos, it can be used by anyone trying to save a little dough.
We'll keep you posted on the long-term durability of the powder-coating, but we expect the finish to take whatever we throw at it. In addition to the tough finish, the Goodyear DuraTracs also have built-in rim protectors to help guard wheels from accidental curb damage.
Coming Soon: Part II – Goodyear Wrangler DuraTrac Off-Road Test!